Civic Knowledge
This series of research products addresses what young Americans know and do not know about politics and related topics and how civic knowledge can be fostered in various institutions.
RSSCivic Knowledge
Only eight states' civic education standards explicitly require that students learn about the ideological underpinnings of the two major political parties, according to a new working paper from researchers at the University of Wisconsin-Madison and published by CIRCLE. In "State Standards Scratch the Surface of Learning about Political Parties and Ideology," Paula McAvoy (UW-Madison), Rebecca Fine Read More >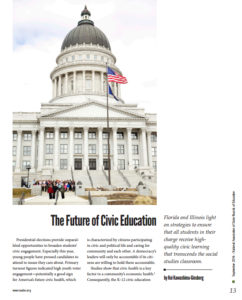 Today, the National Association of School Boards of Education published the most recent edition of its journal, The Standard, on The Future of Schools. The issue features an article by CIRCLE's Director, Dr. Kei Kawashima-Ginsberg, on the future of civic education. Read the full article: "The Future of Civic Education" In the article, Kawashima-Ginsberg emphasizes how state-wide Read More >
The ongoing crisis in Washington, D.C., has once again laid bare the deep polarization and partisan divisions among our elected leaders. This political climate makes civic education both more challenging and increasingly important: teaching tomorrow's leaders to be informed, responsible citizens emerges as a vital long-term solution to political dysfunction.
The Center for Information and Research on Civic Learning & Engagement (CIRCLE), the preeminent youth research center based at Tufts University's Tisch College of Citizenship and Public Service, applauded the new College, Career and Civic Life (C3) Framework for Social Studies State Standards released earlier today by the National Council for the Social Studies (NCSS). Read More >
In "Civic Learning through Action: The Case of Generation Citizen," CIRCLE staff describe Generation Citizen's theory of change and preliminary evidence from its program evaluations. We use Generation Citizen (GC) as an example of the concept of "Action Civics." GC works with middle and high schools in diverse communities by offering a curriculum, coaching, and Read More >