September 16th, 2011

Tweet

Share

Email to a Friend
Released today at the 66th Ann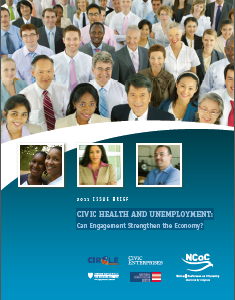 ual National Conference on Citizenship in Philadelphia is a new report entitled Civic Health and Unemployment:  Can Engagement Strengthen the Economy? CIRCLE is a co-sponsor of the report and played an important role in conducting the analysis.
The report finds that levels of civic engagement in 2006 and 2008 strongly predicted how well states and large metro areas would weather the unemployment crisis of 2006-10. When we combined in one model eight economic factors thought to predict unemployment (ranging from the housing bubble and state GDP to educational attainment) along with five important civic measures–volunteering, working with neighbors on community problems, attending meetings, registering to vote, and voting–we found that the civic measures were strongly related to changes in employment from 2006-2010, but none of the economic factors was associated with employment to a statistically significant degree.
Other evidence cited in the report suggests that group membership, meeting attendance, serving as a group officer, and contacting public officials also have positive relationships with employment.
The main focus in the report is on states, but somewhat more limited evidence from metropolitan areas finds the same patterns at that level as well.
The report carefully notes that we cannot tell for sure whether civic engagement lowers unemployment; other explanations are explored. However, the statistical relationships are notably strong and deserve much more attention by economists, policymakers, and the public.
The statistical analysis itself cannot explain why civic engagement may be an important factor in avoiding unemployment, but other research lends support for several hypotheses:
Participation in civil society can develop skills, confidence, and habits that make individuals employable and strengthen the networks that help them to find jobs
People get jobs through social networks (online and offline)
Participation in civil society spreads information relevant to investors and workers
Participation in civil society is strongly correlated with trust in other people, and people who trust others are more likely to invest and hire
Communities and political jurisdictions with stronger civil societies are more likely to have good governments
Civic engagement can encourage people to feel attached to their communities
As the report concludes:
Even at a time when the global economy has been buffeted by strong and dangerous forces, all communities have capital and skills that can be deployed to create or preserve jobs. Investors may be more willing to create jobs locally if they trust other people and the local government, if they feel attached to their community, if they know about opportunities and can disseminate information efficiently, and if they feel that the local workforce is skilled. All these factors correlate with civic engagement. Those correlations, plus the other evidence cited in this report, lend some plausibility to the thesis that civic health matters for economic resilience.