February 3rd, 2016

Tweet

Share

Email to a Friend
Monday's Iowa Democratic caucuses saw youth overwhelmingly support Senator Bernie Sanders, choosing him over Secretary Hillary Clinton by 84% to 14% and propelling him to a near-tie in the first-in-the-nation contest. A new CIRCLE analysis shows that Senator Sanders' success is related to strong support from Iowa counties with sizable college student populations. That is evidence that young voters matter, but it raises the question of whether the Sanders campaign resonates with all youth (39% of Iowans age 18-29 don't have any college experience).
CIRCLE staff layered the results of Monday's Democratic caucus in each Iowa county onto data about campus enrollment from the Integrated Postsecondary Education Data System database of the National Center for Education Statistics. (It is worth noting that while many students are ages 18-29, the data include students of all ages.) Of the 95 Iowa Counties that favored either Secretary Clinton or Senator Sanders—four were tied—Secretary Clinton won 59, but only seven of those counties (11.9%) have 2,000 or more college students. In contrast, Senator Sanders won in 27 counties, but 11 (30.6%) have 2,000 or more college students.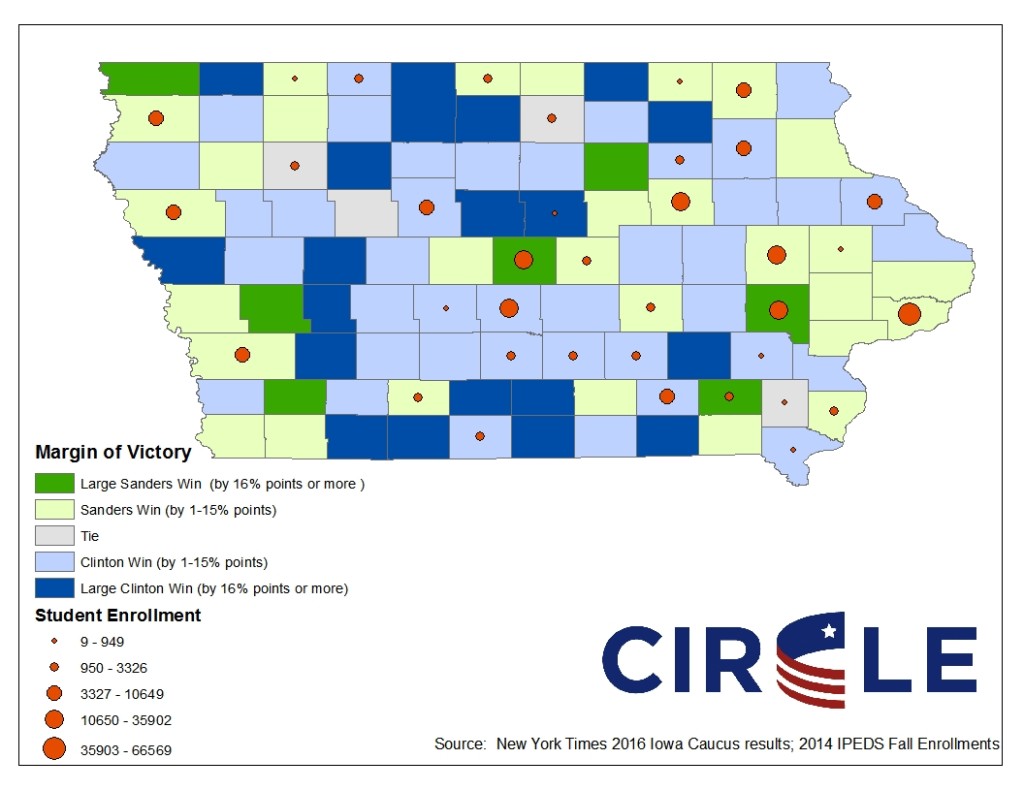 In some counties with a large number of college students, namely Polk (Des Moines Area Community College and Drake University), Wapello (Indian Hills Community College), and Webster (Iowa Central Community College) counties, Secretary Clinton was a clear winner. But the strongest support for Senator Sanders came from counties with campuses that have sizable student populations:
Story (Iowa State)
Johnson (University of Iowa),
Winneshiek (Northeast Iowa Community College and Luther College)
Woodbury (Western Iowa Tech Community College and Morningside College)
Black Hawk (University of Northern Iowa, Hawkeye Community College).
In short, while both Secretary Clinton and Senator Sanders drew support from college-heavy counties, Senator Sanders likely relied far more heavily on college students coming out to support him.
While we do not have county-level data about how students or youth voted, this finding raises questions about whether these trends will hold in states where college students make up a smaller share of the overall eligible population.  For example, Iowa has 154,000 enrolled students under 30 (some of whom are likely from out of state, and total state citizen population of 2.3 million), while New Hampshire has 46,000 students under 30 (and a total citizen population of 1 million), South Carolina has 191,000 enrolled students (and a total citizen population of 3.5 million), and Nevada 63,000 (1.9 million citizens).
Political campaigns often target college campuses due to the ability to reach thousands of students at one time. These results suggest that the Sanders campaign profited from just that strategy. While student engagement is important to civic and political life, this strategy can also miss large numbers of youth, including the 40% of young adults nationally who have not attended college.
Campuses interested in increasing political learning and democratic engagement among students should take advantage of resources and research opportunities provided by our colleagues at Tisch College's Institute for Democracy & Higher Education.