April 26th, 2017

Tweet

Share

Email to a Friend
All youth deserve to have a voice on issues that matter to them. Unfortunately, research continues to show that this ideal is not achieved for millions of young people.
CIRCLE is committed to helping organizations and governments use research and data to improve civic life and close gaps in opportunities for civic engagement. In a democracy, any amount of systemic inequity is too much. This is why CIRCLE has developed the RAYSE Index (Reaching All Youth Strengthens Engagement).
The RAYSE Index brings data to bear on efforts to broaden access to youth engagement opportunities. The comparative county-level data can provide research-based support for making the case that engagement has a high potential for growth and for making decisions about where to invest resources (e.g. time, resources, funding).
This is the first phase of the RAYSE Index roll-out. More detailed background on the data and methods, as well as a user guide, can be found here.
To build the RAYSE Index, the CIRCLE staff created a framework based on what research has been shown to support or correlate with youth civic engagement. These influencing factors were then organized into categories that informed our search for corresponding, available, and reliable datasets. County-level data exists for many of the factors but not all. In the end, the RAYSE Index was built using several large datasets, many of them using federal data (e.g. IRS, Census) and many indicators/factors. Each column is a statistical summary of factors (index).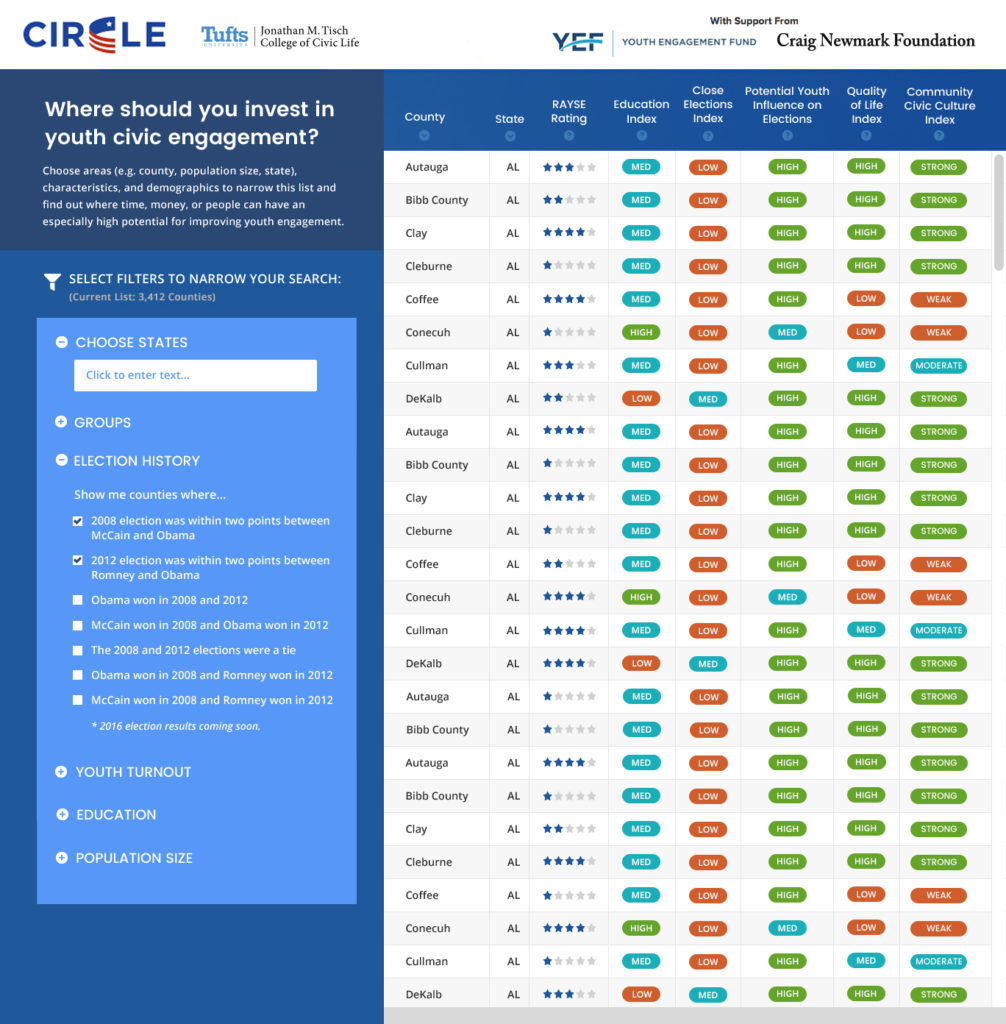 County conditions in each of the five areas are labeled as high, moderate, or low potential to support an increase in youth civic engagement. The star rating illustrates how we estimate the degree to which these conditions together can raise youth civic engagement. Instead of providing a single ranking, users can tailor the county list by filtering for desired priorities (e.g. location, youth subgroup, political history).
To find out about opportunities to learn more about how to use the RAYSE Index, opportunities to discuss the data and more, sign up here.
The RAYSE Index has been supported by the Youth Engagement Fund and the Craig Newmark Philanthropic Fund.