November 9th, 2016

Tweet

Share

Email to a Friend
Note: This post was published in the early hours of Wednesday, before the presidential election was called for Donald Trump. We will be offering additional analysis later today, throughout the week, and beyond.
—
In an election cycle full of surprises, Tuesday night's  results have gone against virtually all of the polling-based projections. While as of this writing the outcome is uncertain in the presidential election, with several decisive battleground states too close to call, it is clear that the electoral vote count has so far favored Mr. Trump over Secretary Clinton—despite a youth electorate that strongly supported the Democratic candidate.
Young voters made their voices heard in Tuesday's presidential election, making up one-fifth of the electorate, and almost two-thirds of them rejected Donald Trump's candidacy for president even as older Americans seem to have coalesced around the Republican nominee and propelled him to an unexpectedly strong, and possibly winning, electoral performance . As in other recent electoral processes, such as the "Brexit" vote on the United Kingdom's status in the European Union, young people voted drastically differently than older segments of the electorate but may have come up short in definitively shaping an outcome in an election that they believed would affect them personally.
Young voters, ages 18-29, supported Hillary Clinton over Donald Trump by 55% to 37%. Among young people of color, Clinton won by even more decisive margins.
The 37% youth support for the Republican candidate in 2016 equals the support garnered by Mitt Romney in 2012. However, youth support for the Democratic candidate dropped: it was 60% for President Obama's reelection in 2012, and 55% for Clinton this year. Notably, while in the last presidential election 97% of young voters chose one of the two major party candidates, this year only 92% did so, as nearly 1 in 10 youth (8%) selected a third-party option or otherwise eschewed voting for Clinton or Trump.
The percentage of youth supporting the Democratic candidate was lower than in both of President Obama's elections, and closer to the level achieved by Bill Clinton in his successful 1996 campaign. It's the third highest share of the youth vote for Democrats since 1972. Meanwhile, the 37% support from young voters was the fourth-lowest for a Republican candidate since 1972.
As we highlighted in our CIRCLE pre-election poll of Millennials, young people were sharply divided by race, and those differences manifested on Election Day. Youth of color supported Hillary Clinton by wide margins, 70% to 24% among young Latinos and, even more dramatically, 83% to 9% among young African Americans. However, Trump won among young Whites, 48% to 43%, a modest margin that may have nonetheless made a big difference in battleground states with large White populations, such as Iowa (where 84% of young citizens are white) and Ohio (78%). Both states were called for Trump late Tuesday night.
As in previous elections, there were significant differences between the presidential choice of youth and that of older voters. While, as we reported above, voters aged 18-29 supported Clinton by a margin of 55% to 37%, support for Clinton declined, and support for Trump increased, as voter age goes up. A majority of voters under age 40 voted for Clinton (51% to 56%), while half or more of over-40 age groups voted for Trump (53% to 50%).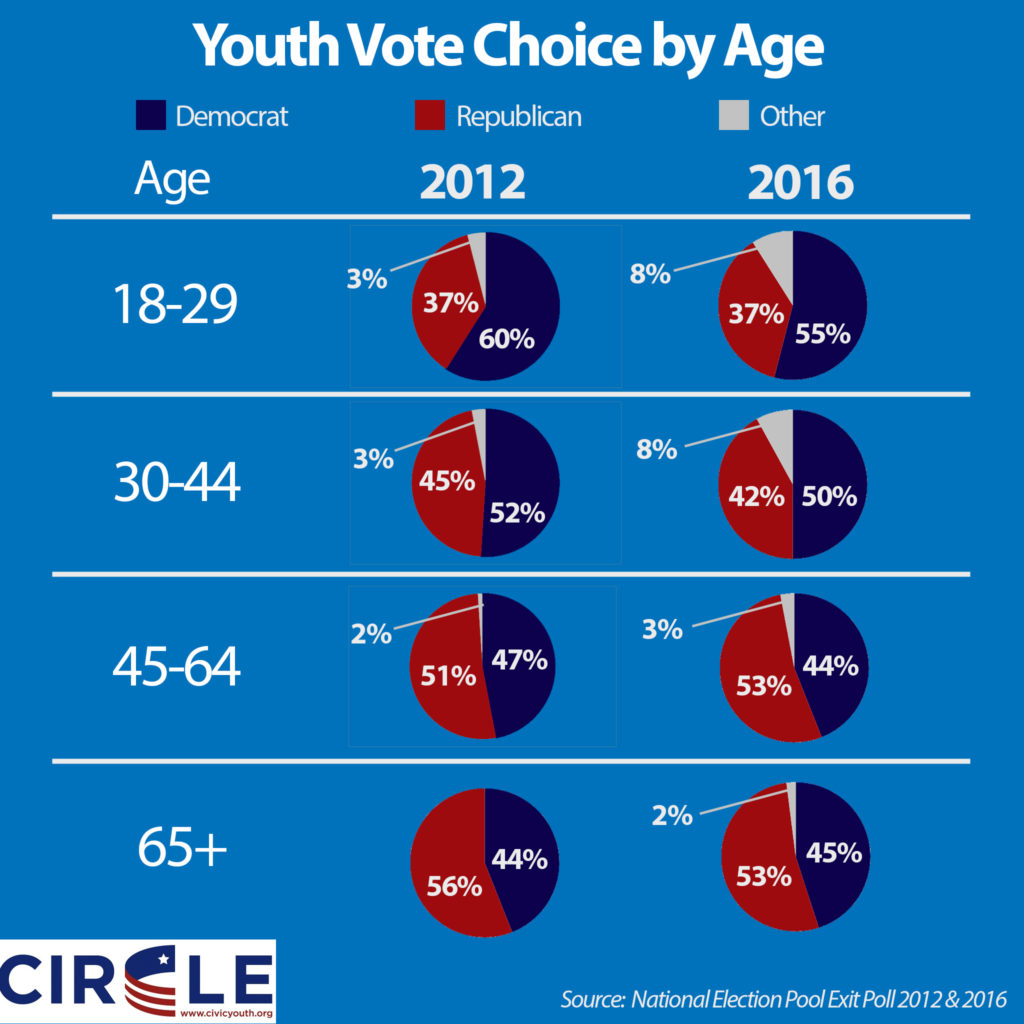 Youth voting, both participation level and candidate choice, can also differ widely by state. Young people's support was notable in several battleground states:
In

Michigan

, too close to call as of early Wednesday, young voters chose Clinton over Trump, 56% to 35%, and made their presence felt, making up 21% of all voters there. Voters under 30 were the only age group to favor Clinton in the state.
In neighboring

Wisconsin

, young voters gave Clinton a 4-point advantage (47% to 43%). Notably that's much less enthusiastic support for Clinton than the 30-44 age group (54% to 37%). The race is also too close to call as of this writing.
In the key state of

Florida

, which Trump narrowly won, young people supported Clinton over Trump, 57% to 35%, which was very similar to the 30-44 age group and virtually the opposite of the two oldest age groups.
The differences between age groups were more dramatic in

North Carolina

, where young voters chose Clinton over Trump, 60% to 36%, which was between 11 and 23 points higher than other age groups' support for Clinton.
In

Iowa

, which Trump won by a comfortable margin, young voters were evenly split between Trump and Clinton, who both received 45%. The youngest voters (ages 18-24) favored Clinton 51% to 39%, while voters aged 25-29 favored Trump by a sizable margin.
Nationally, young voters aged 18-29 cast 19% of all votes in the 2016 presidential election, which is the same as the youth share of voters in 2012.
CIRCLE's election-night analysis is based on data provided by news outlets from the National Exit Poll and state exit polls conducted by Edison Research. These numbers are subject to change. On Wednesday, we will present an expanded, updated analysis of youth voting in the 2016 presidential election.