November 3rd, 2010

Tweet

Share

Email to a Friend
Jonathan M. Tisch College of Citizenship and Public Service, Medford, MA – An estimated 20.4 percent of young Americans under the age of 30 voted in Tuesday's midterm elections, compared to 23.5 percent in the last midterm election (2006). The change in the turnout rate is outside the margin of error (+/-2%), according to Tufts University's Center for Information and Research on Civic Learning and Engagement (CIRCLE), the nation's premier research organization on the civic and political engagement of young Americans. Almost nine million Americans between the ages of 18 and 29 voted. Almost 10 million people in the same age group voted in 2006.
The estimated turnout the day after elections is based on exit polls along with the number of ballots counted and demographic data from the US Census. When voting data from the US Census (its Current Population Survey, November 2010 Voting Supplement) become available next year, it will be possible to see with greater certainty whether turnout rose, fell, or stayed the same. It is already clear, however, that turnout was in the typical range for a midterm election.
Youth turnout rose in states where the Vote Again 2010 coalition is highly active. (Vote Again 2010 is a coalition of more than 30 501(c)3 nonpartisan youth-serving organizations and media partners that work to increase youth turnout.) In these states, youth turnout rose by six points compared to 1998, whereas it fell in the seven states where the Vote Again 2010 Coalition organizations were least active.  One explanation for the higher rates of participation in the Vote Again 2010 states is that there was more voter outreach to young voters and political advertising in these states. Current research shows that youth participate when they are asked to do so. As shown in Table 2, turnout increased between 1998 and 2010 in states that had high levels of youth outreach, but not in states where the Coalition was least active. Many of the groups that make up the Vote Again 2010 Coalition formed after the 1998 midterm elections, when the youth turnout hit its lowest rate.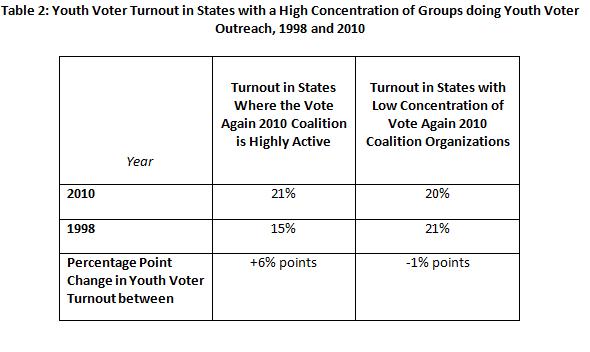 For more detail and statistics on youth voting in 2010, please see our 2010 Election Press Release.