April 7th, 2016

Tweet

Share

Email to a Friend
An estimated one in three young voters, ages 18-29, cast a ballot in yesterday's Wisconsin primaries, contributing to strong overall turnout in a state with competitive races and a tradition of strong civic habits. Youth participation in the Republican primary more than doubled the previous record, set in 2008, and youth supported the state's winner—Senator Cruz—more than his competitors. On the Democratic side, young people overwhelmingly supported Senator Bernie Sanders as many (but not all) have throughout the primary season and helped propel him to a win in the state, as a quarter of his total votes came from youth.
Youth Participation Very High for a Primary
Youth participation in the Wisconsin primaries exceeded previous highs, both in terms of turnout and total number of youth who cast ballots. An estimated 33% of young people participated and almost three hundred thousand young people voted in the primaries, estimates suggest. This estimated rate of participation is the second highest we have seen for a state primary contest in 2016, following New Hampshire's estimated 43%. Although the youth participation in Wisconsin primaries increased significantly, the overall youth share of voters was 14%, one percentage point lower than in 2008, indicating that  turnout rose for voters of all ages, as well.
Youth Heavy and Campus Heavy Counties Help Presidential Primary Winners[1]
Estimated participation in both the Democratic and Republican primaries in Wisconsin increased compared to 2008. According to the exit poll, young people supported the eventual state winners in both parties. The overall levels of support for each of these winners from all voters varied from county to county and CIRCLE conducted an analysis of the relationship between youth-related characteristics of a county and the levels of overall candidate support.
Wisconsin Republican Primary
Young people broke their participation record in the Republican contest. We estimate that almost 110,000 youth participated in the Wisconsin Republican primary, more than doubling the 2008 estimate of 44,000 youth. However, the youth share of voters in that primary (10%) remained similar to previous years. This indicates that Republican youth participation rose alongside overall participation—almost 1.1 million total votes have been counted so far in the 2016 Wisconsin Republican primary, compared to around 410,000 in 2008.
Young people who participated in the Republican primary were most likely to support Senator Cruz (44%), as were all age groups. However, young people were slightly less likely than older voters to support Cruz, and more likely to support Governor Kasich (21%) than all Republican primary voters (14%).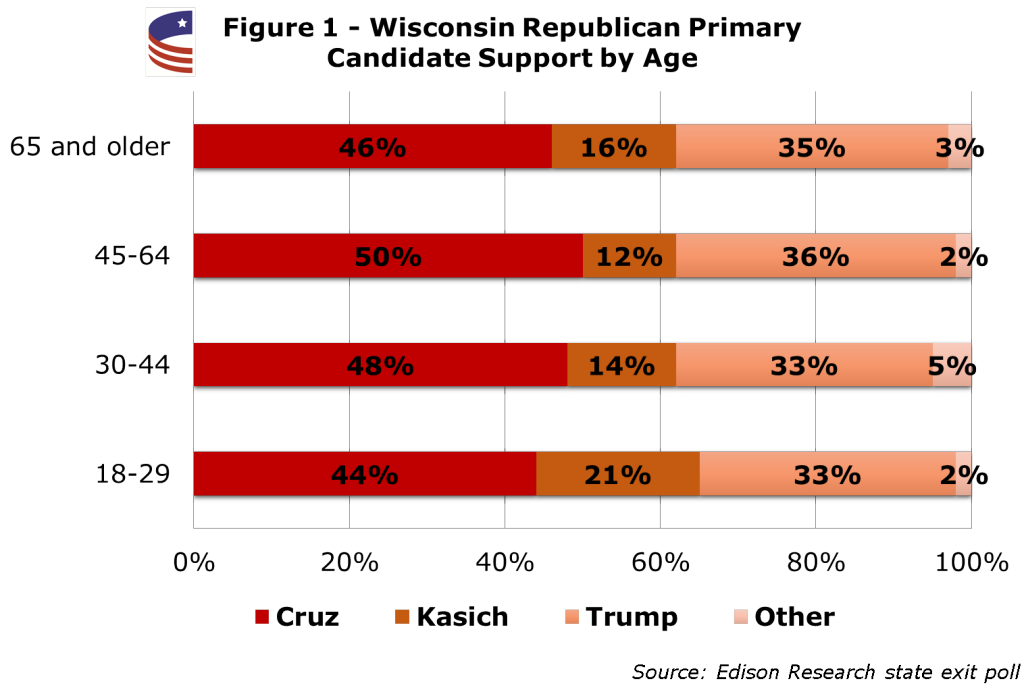 Donald Trump struggles with youth, as exhibited by a lack of strong support in many states, and lower levels of support in college-heavy counties in Wisconsin are likely to contribute to that.  Our analysis shows that Cruz and Kasich won more support in counties where there were larger proportion of young people and large college enrollment relative to the size of the county adult population.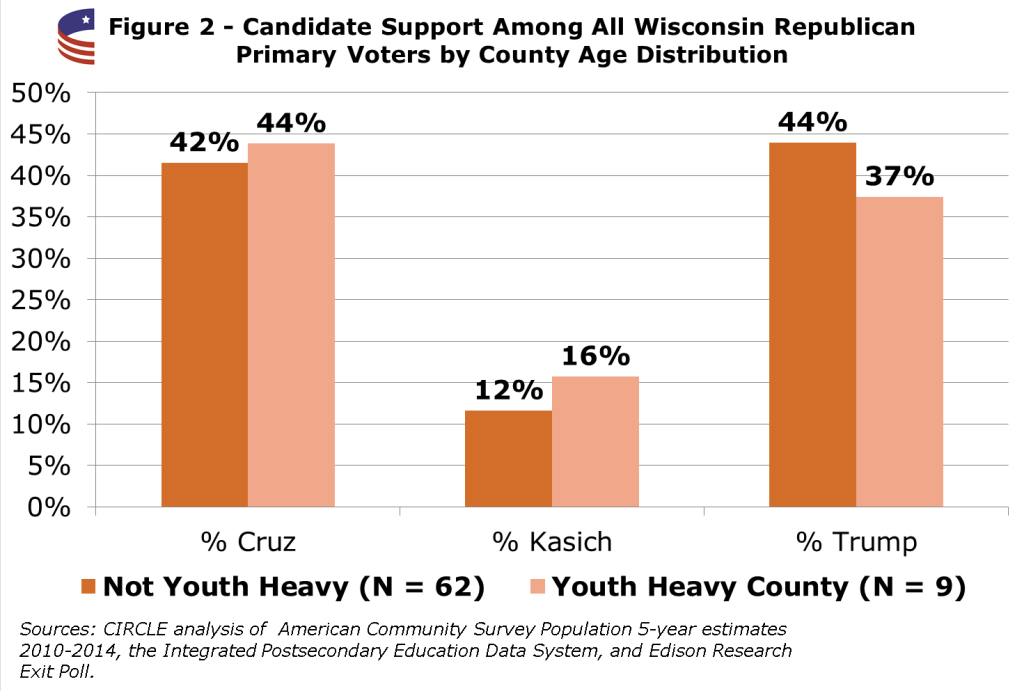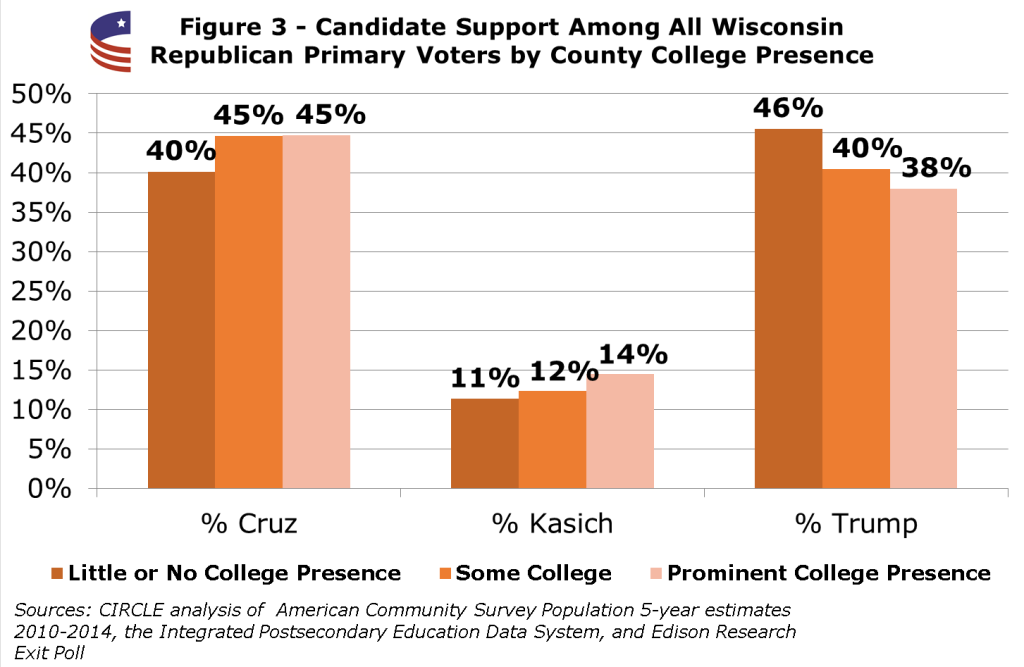 Wisconsin Democratic Primary
Both total youth participation and the youth share of voters in the Wisconsin Democratic primary rose compared to previous years. As in other Midwestern states this year, Senator Sanders won a large majority of youth votes in Wisconsin: 82%. An estimated 153,000 young people cast ballots for Sanders, making up 28% of his total votes and exceeding his margin of victory in the state.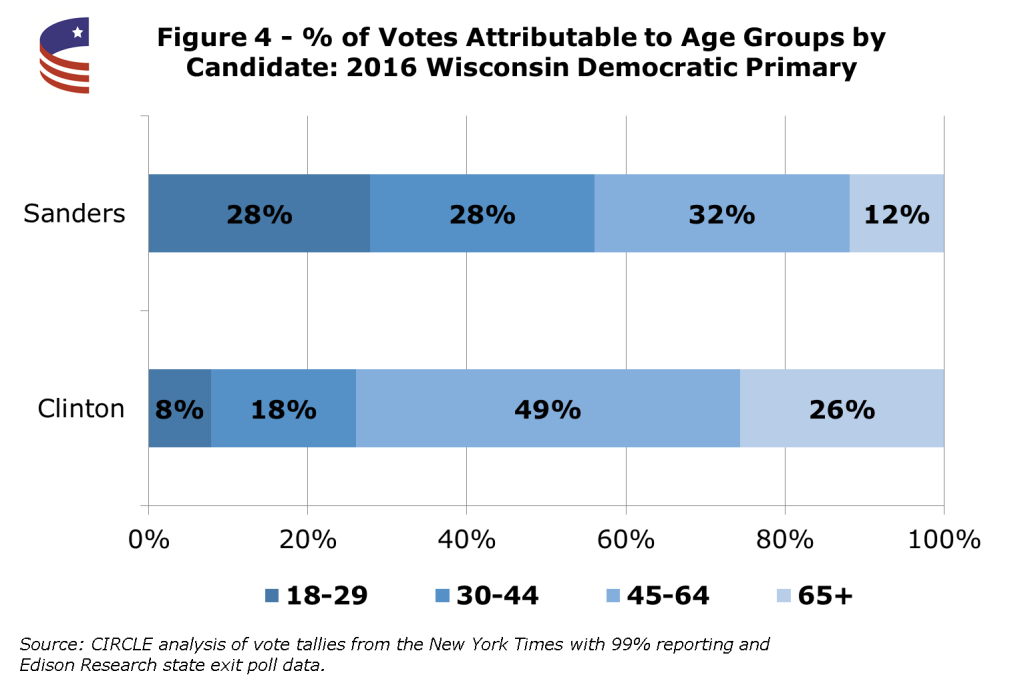 Once again, Sanders likely benefited especially from support from young voters in college-heavy counties. This was reflected in the percentage of voters supporting each candidate by county characteristics. Support for Sanders was highest in college-heavy counties and in places where a lot of young people live.
Senator Sanders' margin of victory, by vote counts and percentage points, was also far larger in college-heavy and youth-heavy counties. Most of the counties with especially heavy college presence were home to campuses in the University of Wisconsin system.
The high youth participation in Wisconsin may be a preview of the impact young people will have in the general election. Wisconsin ranks sixth in our Youth Electoral Significance Index for both the presidential and Senate contests this Fall.
Campuses interested in increasing political learning and democratic engagement among students should take advantage of resources and research opportunities provided by our colleagues at Tisch College's Institute for Democracy & Higher Education. The Institute leads The National Study of Learning, Voting, and Engagement (NSLVE) which offers colleges and universities an opportunity to learn their student registration and voting rates.
For regular updates in your Inbox about youth and the 2016 election, sign up for CIRCLE's
monthly E-Update here.
[1] In our analysis, "youth heavy" counties are defined by counties in which 19% or more of the total population were under 30.  By this definition, 9 counties fall under this category. College presence was calculated by tabulating the total number of students enrolled in institutions of higher education (defined by IPEDS) as of Fall 2014,whichis the latest data available, then dividing the college enrollment by the total estimated youth population in the county.  Therefore, we do not assume that all of the enrolled college students were eligible to vote in this primary nominating contest and not all of the students enrolled in a specific college were residents of the county in which the colleges were located.  However, we use this number to estimate the overall presence of colleges and universities in a particular county.  "Heavy college presence" is a category for counties where college enrollment figure is 50% or more of the county's overall youth population.  Some college presence represents counties where this number is between 19% and 49%.  The rest were considered to have "little to no" college presence.