Higher Education
This series of research products addresses higher education's role in facilitating youth civic engagement, as well the engagement of young people who attend college.
RSSHigher Education
This is the third in a series of posts about an exclusive new CIRCLE 2018 pre-election poll of youth aged 18-24. The survey was developed by CIRCLE and the polling firm GfK, which collected the data from their nationally representative panel of respondents between September 5 and September 26, 2018. The study surveyed a total Read More >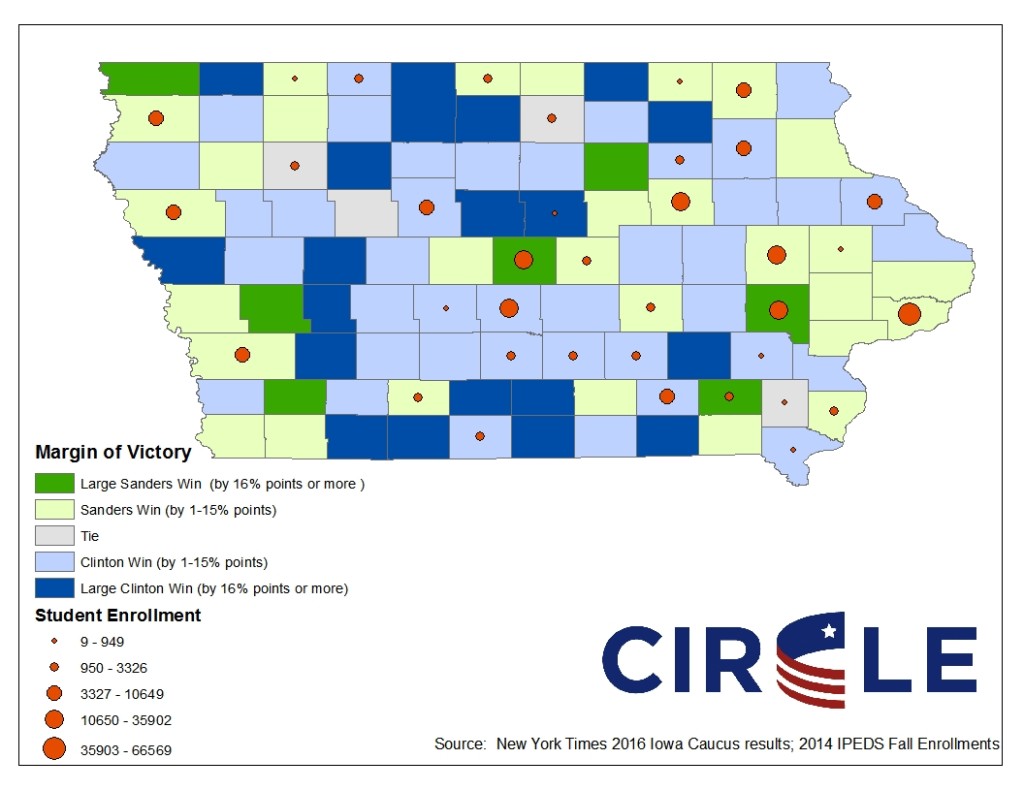 Monday's Iowa Democratic caucuses saw youth overwhelmingly support Senator Bernie Sanders, choosing him over Secretary Hillary Clinton by 84% to 14% and propelling him to a near-tie in the first-in-the-nation contest. A new CIRCLE analysis shows that Senator Sanders' success is related to strong support from Iowa counties with sizable college student populations. That is Read More >
There are deep inequalities in youth civic knowledge and participation across socioeconomic levels that must be addressed to strengthen our democracy, and there is a vital role for universities and other institutions of higher education, not only in promoting youth engagement, but also closing this gap.
With support from the S. D. Bechtel, Jr. Foundation, CIRCLE has released a working paper that explores digital badges and alternative assessments for civic skills, knowledge, and dispositions. This working paper, entitled "New and Alternative Assessments, Digital Badges, and Civics: An Overview of Emerging Themes and Promising Directions,considers digital badges as well as ePortfolios, rubrics, Read More >
Previous research has shown a strong correlation between college experience and political engagement. About 40 percent of young eligible voters between the age of 18 to 29 have not attended college. Our recent report, That's Not Democracy: How Out-of-School Youth Engage in Civic Life and What Stands In Their Way, shows they are interested in Read More >