Community Participation
This series of research products addresses: community participation and volunteering trends, where and why young people participate in community, how to encourage volunteering, what young people think about new volunteer programs and policies, and the benefits of community participation.
RSSCommunity Participation
During the summer we polled nearly 1,700 youth, 18 to 29 years old, about the election. Among many questions, we asked what would influence the respondents to vote. There was a clear answer: ask. Almost half of young respondents reported that being asked by a friend or a parent would or might influence them to Read More >
Today at the NCOC conference, CIRCLE will help explain new collaborative research into the relationship between civic life and unemployment. This new research indicates a positive relationship between indicators of civic health and lower unemployment. You can watch the entire event live and you can participate in the conversation online by using #NCOC.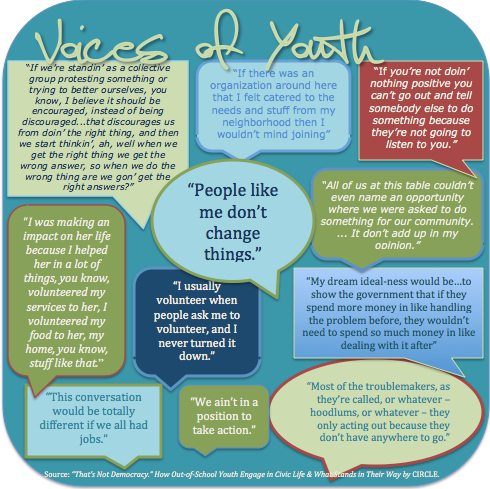 CIRCLE is releasing a major new study today, "That's Not Democracy." How Out-of-School Youth Engage in Civic Life and What Stands in Their Way. Many practitioners informed this project, which was in collaboration with the Charles F. Kettering Foundation. Executive Summary |  Full Report A vibrant and thriving democracy requires a deeply engaged and active citizenry. "Civic Read More >
Medford, MA – A new study from the Center for Information & Research on Civic Learning & Engagement (CIRCLE), the preeminent youth research organization based at Tufts University, finds no evidence that the federally funded service program AmeriCorps mobilizes people politically. According to the new fact sheet, young adults tend to become more civically engaged Read More >
By Rebecca Jacobsen and Tamara Wilder Linkow February 2012 In CIRCLE Working Paper 74, Rebecca Jacobsen and Tamara Wilder Linkow construct a composite index of engaged citizenship indicators for young adults that incorporates 40 variables weighted according to the input of a panel of experts. The resulting Engaged Citizen Index reveals significant racial and ethnic Read More >