Non-College Youth
This series of research products addresses: the demographics of non-college youth, voting and volunteering patterns among this demographic group, and military experience among young people with college experience.
RSSNon-College Youth
The ongoing crisis in Washington, D.C., has once again laid bare the deep polarization and partisan divisions among our elected leaders. This political climate makes civic education both more challenging and increasingly important: teaching tomorrow's leaders to be informed, responsible citizens emerges as a vital long-term solution to political dysfunction.
Previous research has shown a strong correlation between college experience and political engagement. About 40 percent of young eligible voters between the age of 18 to 29 have not attended college. Our recent report, That's Not Democracy: How Out-of-School Youth Engage in Civic Life and What Stands In Their Way, shows they are interested in Read More >
Yesterday, CIRCLE released a new major study on the civic engagement of young people who are not in school or college. CIRCLE has compiled recommendations, informed by our conversations with some of these young people. The following is a summary of these recommendations (which can also be found in the report): Schools can: Provide civic Read More >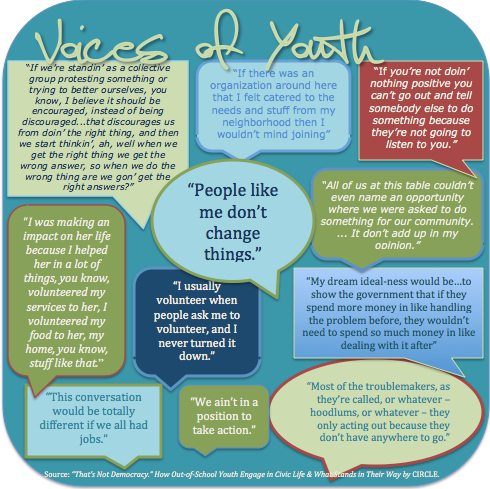 CIRCLE is releasing a major new study today, "That's Not Democracy." How Out-of-School Youth Engage in Civic Life and What Stands in Their Way. Many practitioners informed this project, which was in collaboration with the Charles F. Kettering Foundation. Executive Summary |  Full Report A vibrant and thriving democracy requires a deeply engaged and active citizenry. "Civic Read More >
Poll Findings Comparing Youth with College Experience and Those Without Findings from a recent poll commissioned by the Youth Engagement Fund, and analyzed by CIRCLE suggest that overall non-college youth do not vary significantly from their college experienced counterparts.  However there are some slight differences.  This analysis is part of  CIRCLE's   #YouthTruth campaign. The Read More >