March 12th, 2012

Tweet

Share

Email to a Friend
Paul, Romney Still Have More Youth Votes than the '08 Nominee, Sen. John McCain
CIRCLE has been calculating youth voting statistics after each primary in which an exit poll is conducted. Last week, we released the cumulative number of young people's votes for the 2012 Republican candidates. After Super Tuesday, Mitt Romney and Ron Paul are basically tied in the number of youth votes they have received (counting only the states in which exit polls were conducted). The race for youth votes is represented below. Barack Obama's 2008 showing is included for comparison purposes. (Click on the state to go to more specific information for that state).
The last point in this graph only shows states that voted on Super Tuesday in both 2008 and 2012. However, including all the votes from both years would generate a similar pattern: at this time in 2008 then-candidate Obama had far more support from youth in primaries than any 2012 Republican candidate.
The candidates receiving the most youth votes in the 2012 primaries (Romney and Paul) have received more support from youth than Senator John McCain, the eventual Republican nominee, did in 2008. This may be an indicator that the 2012 candidates are doing a better job speaking to or doing outreach to Republican, conservative and/or libertarian youth, or that those youth are generally more mobilized this election cycle.
Compared to how they each performed in the 2008 primaries and caucuses, Romney and Paul have gained youth support. Paul has dramatically increased his youth support between the 2008 and 2012 primaries, compared to Romney's more modest increase. The growth in Paul's youth support raises the question of what Paul's young voters will do in the general election.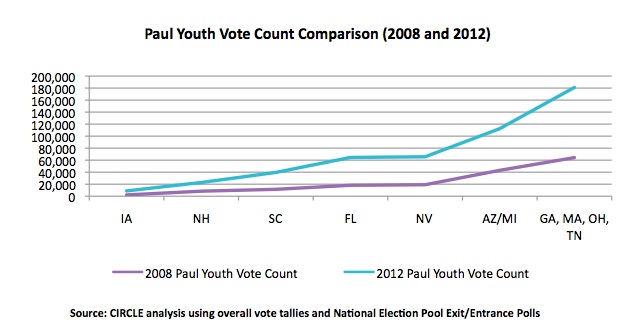 Although Paul and Romney are doing better among youth than Senator McCain did in 2008, there remains a large gap between the youth support Republicans received in 2008 and 2012 and the youth support Democratic primary candidates received in 2008.