July 5th, 2007

Tweet

Share

Email to a Friend
by Karlo Barrios Marcelo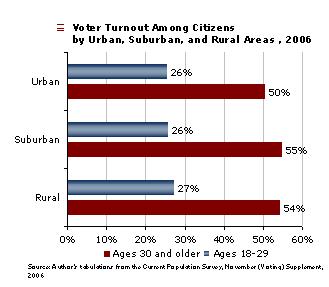 July 2007
This fact sheet presents voter turnout data by urban, suburban, and rural areas, as well as by metropolitan area (29 unique metropolitan areas) by subgroup and age. The Current Population Survey, November (Voting) Supplement, 2006, was the data source used for this analysis.
Download "Young Urban Voters in the Midterm Election Year 2006."
Click here to view the list of voter turnout analysis in 29 Metropolitan areas.