December 14th, 2010

Tweet

Share

Email to a Friend
The January edition (v8.i1) of CIRCLE's quarterly newsletter, Around the CIRCLE, can be downloaded from here.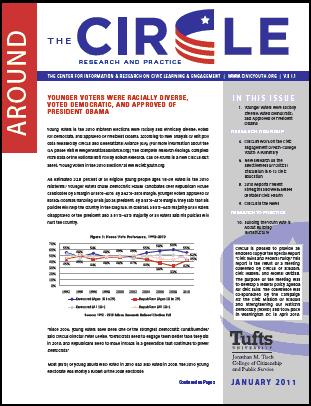 The newsletter includes a variety of articles including:
Enclosed in the issue, CIRCLE is pleased to provide a copy of the Special Report "Civic Skills and Federal Policy." This report is the result of a meeting convened by CIRCLE, scholars, civic leaders, and federal officials. The purpose of this meeting was to develop a federal policy agenda for civic skills. The conference was co-sponsored by the Campaign for the Civic Mission of Schools and Strengthening our Nation's Democracy (SOND) and took place in Washington DC in April 2010.
If you would like to receive a hardcopy of CIRCLE's quarterly newsletter, please send an email to Surbhi Godsay  at Surbhi.Godsay@Tufts.edu with your address.