January 21st, 2009

Tweet

Share

Email to a Friend
January 2009
CIRCLE releases a new paper by Constance Flanagan, Peter Levine, and Richard Settersten entitled "Civic Engagement and the Changing Transition to Adulthood" (PDF). This study, funded by the Spencer Foundation, argues that life has changed dramatically for people in their 20s. Marriage, childbearing, financial independence, and other aspects of the "transition to adulthoood" have been transformed since the 1970s, and are now very different for people with and without college educations. These changes and differences powerfully affect civic engagement. For example, it appears that younger generations have delayed voting, in much the same way that they have delayed marriage and childbearing. But young adults without college experience are permanently missing some aspects of civic engagement–such as group membership–that were common thirty years ago.
As this sample graph shows, non-college youth are less engaged than they were in the 1970s in nine out of ten forms of civic engagement.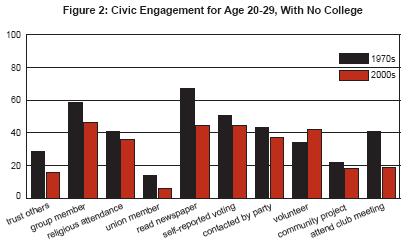 Another graph in the report shows that they are now less engaged than their college-educated peers in all ten of these ways (including union membership). The full report contains much more data, analysis, and policy recommendations.
For more information on non-college youth,  please see CIRCLE's latest fact sheet "Youth Demographics – Youth with No College Experience."  The fact sheet contains information on demographic trends of young people in the United States who have no college experience, for the years between 1968 and 2007.   To download the fact sheet click here.