April 25th, 2007

Tweet

Share

Email to a Friend
by Mark Hugo Lopez and Karlo Barrios Marcelo
April 2007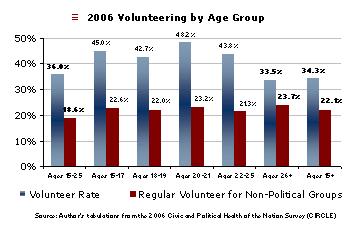 Based on a variety of data sources including CIRCLE's 2006 Civic & Political Health of the Nation survey, Monitoring the Future data from 1976-2005, HERI data from 1984-2005, & NELS data from 1988. Compares youth volunteering with that of other generations, tracks high school & college student volunteering over time, and breaks down youth volunteering for organizations by organization type.
Download "Volunteering Among Young People."
Read the press release for "Volunteering Among Young People" here.